North Umpqua Outfitters is looking to add qualified river guides to our team for the 2023 rafting season.
Per trip wage of $120.00 to $160.00 based on experience and certifications.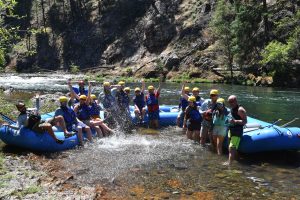 We are the local outfitters serving the North Umpqua River since 1992, and have a permit with the US Forest Service. We do mostly day trips with some multi-day trips.
Current CPR/First Aid certification, current driver's license, Class III-IV experience in paddle guiding and rowing is required. Swiftwater Rescue certification is a plus. This is a seasonal position, Rafting season begins May 20th. Specific duties/requirements include: arriving on time well groomed and with own PFD and helmet and river apparel, able to drive one of our vehicles, assist in handing out the proper equipment such as wet suits, river booties, life jackets, helmets, splash gear, water bottles and paddles, be able to give a safety talk in English, assist in pumping up the rafts, inflatable kayaks and getting them to the water, paddle guiding class II, III, and IV rapids, be able to rescue people who fall out of the raft/ inflatable kayak, assist with already prepared lunch, (set-up and break down), gather equipment upon the finish of the trip, load the rafts/inflatable kayaks on the trailer and properly tie down, drive vehicle back to the office.
Job Types: Full time positions are available and will consider Part-time.
Per trip wage of $120.00 to $160.00 based on experience and certifications.
Required experience:
Class III-IV paddle guide: 2 year
Required education:
High school or equivalent
Required license or certification:
Required language:
Qualified individuals please send resumes to northumpquareservations@gmail.com
About North Umpqua Outfitters
Whitewater rafting, inflatable kayaking, and lodging business on the Wild and Scenic North Umpqua River west of Crater Lake National Park and permitted by the United States Forest Service. We are the local outfitter serving the largest percentage of the permitted allocated use in the Umpqua National Forest.
Bill and Sharon Blodgett
1-541-671-1574
North Umpqua Outfitters
www.umpquarivers.com
Qualified individuals please send resumes to jobs@umpquarivers.com.